Bring the lushness back to your lawn with a full cleaning service and get back to enjoying your artificial grass again.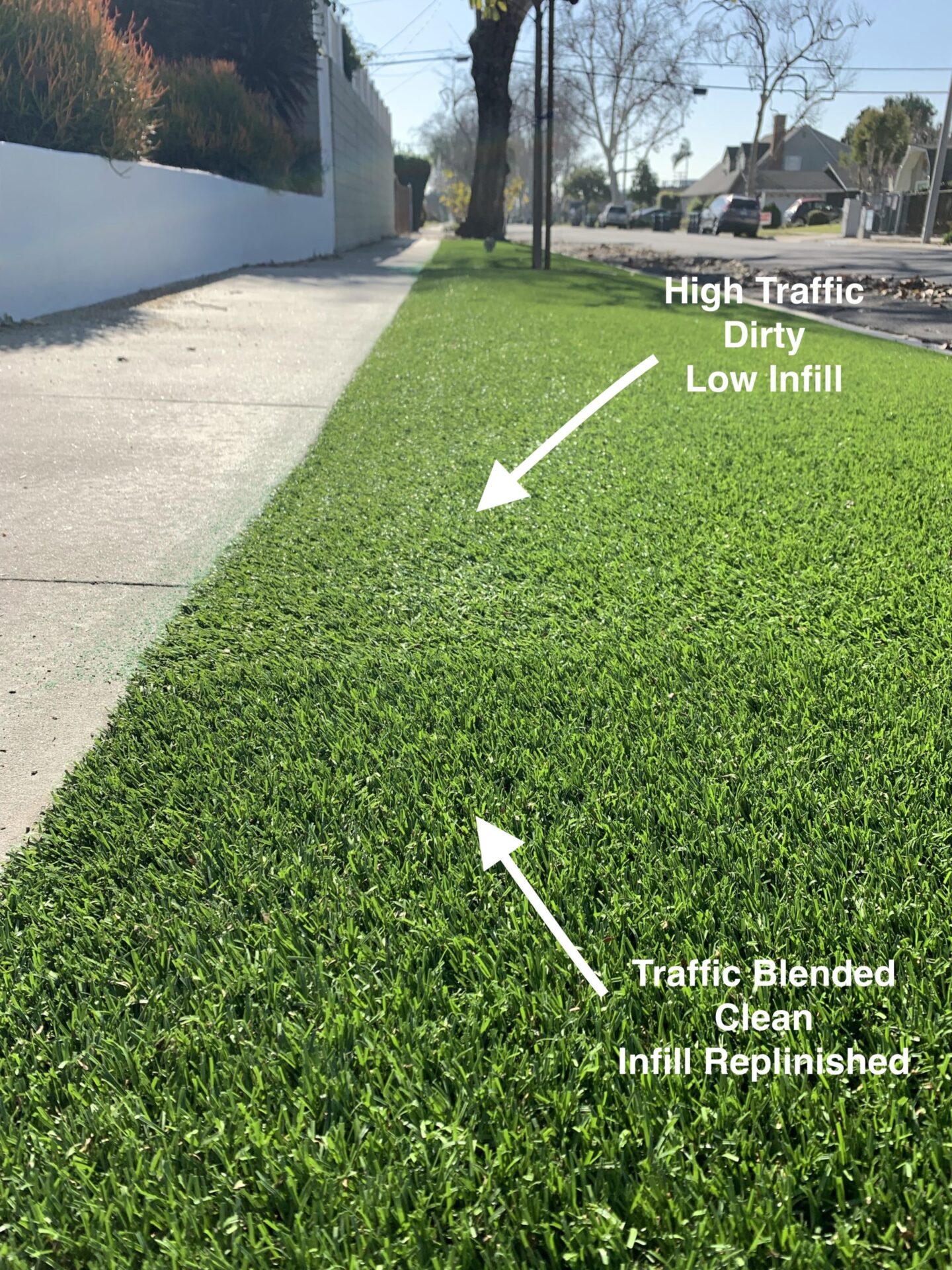 Deep Debri Cleaning
Over time, unwanted waste like pet hair, seedlings, solid pet waste, and practically anything that is hurting your turf's fresh look, settles at the base of your turf fibers. Deep debris removal ensures the longevity of your turf by freshening up the look and ensuring proper drainage.
Infill Replacement
Infill sand is what helps the turf stand up straight. During the shipping process, turf is packaged into rolls which force the turf blades to lay down. Once it is installed, the blades have a memory of being rolled up and infill helps them stand up straight and gives the turf its natural look. The turf can also lay down if it is in areas that get high traffic such as regularly used walkways, around children's playgrounds, or social common areas. Infill is not always able to get your turf back to how it was when it was installed but we can help blend the high traffic and low traffic areas together at an additional cost.
Rinse and Inspection
Our technicians finish with a cleansing solution which is the most important part. We have formulated the best possible dirt removal solution that is still safe for your family to really help your turf shine. 
Odor Eliminator for your K9 Friends 
Our complete Pet System with K9 Zap is a all natural solution for maximum waste degradation. K9 Zap also neutralizes odors and prevents the formation of hydrogen sulfide. (Rotten Egg Odor).

What TurfCare plan is best for you?
Deep Debri Removal

New Silica Infill

Brushing

Clean and rinse
K9 Odor Solution Eliminator

Deep Debri Removal

Weed Removal and preventer

New Pet Zeolite Infill

Brushing

Clean and rinse
Deep Debri Removal

New Small Silica Infill

Brushing 

Water Roller Smoothing

Clean and rinse