Rooftop Artificial Turf Installation Dallas
We offer artificial turf putting green and rooftop turf installation services in Dallas, TX, and surrounding areas. Elevate your rooftop experience with artificial turf and discover the many benefits of having it installed.
ARTIFICIAL TURF OPTIONS
We currently offer one type of turf for rooftops, which is called Performance Pro. This type of turf is similar to indoor turf where it comes with a white backing that is generally glued to the floor.
This  artificial turf has the following key features:
• Heat and frost resistant
• Durable yarn shape creates stronger fiber strength
• UV stabilized yarns to resist fading from the sun
• Soft fiber adds a natural comfortable feel
• Non-flammable, anti-acid yarn resistant to chemical attack
PERFORMANCE PRO TURF

This turf is engineered for high traffic, which makes it very durable and resilient, yet soft for recreational use like lounging around for hosted rooftop parties. It comes with a vibrant field and apple green tones, making it perfect for that fresh and fertilized look for every event you host.
PERFORMANCE PRO SPECIFICATIONS
• Pile Height: 1/2"
• Face Weight: 36 oz
• Total Weight: 82 oz
• Yarn Color: Forest Green
• Yarn Material: Nylon
• Primary Backing Material: 7oz K29 Dual Layered Non-expansive
• Secondary Coating Material: 5mm perforated polyurethane foam
• Infill Ratio: 1-2 lbs (not required)
• Roll Width: 15' feet
• Warranty: 15 year
• Recommended Use: Moderate to High Traffic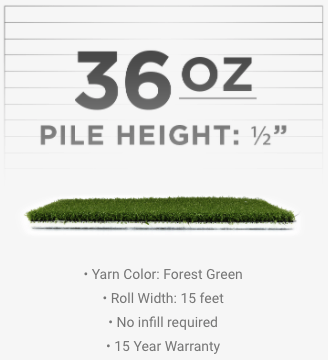 Contact Us
Email: [email protected]
Phone: (469)209-5505
Monday – Friday: 7:00 AM – 6:00 PM
Saturday – Sunday: 8:00 AM – 3:00 PM