PLAYGROUND TURF INSTALLATION IN DALLAS
We offer artificial turf installation services for playground properties in Dallas, TX, and surrounding areas. We handle everything from designing to installing synthetic grass for any given playground landscape while utilizing the latest production of artificial grass that is specifically designed to meet your playground needs.
PLAYGROUND TURF OPTIONS
We currently offer two types of playground turf for our customers,
All Play Turf
Pacific Turf
Our turf installations for playgrounds include foam padding underlayment, which allows kids to land safe and sound onto the synthetic grass.
These turf options are far softer and safer than mulch, sand, or natural grass and it's practically maintenance-free.
Both types of artificial turf share the following key features:
• Heat and frost resistant
• Durable yarn shape creates stronger fiber strength
• UV stabilized yarns to resist fading from the sun
• Soft fiber adds a natural comfortable feel
• Non-flammable, anti-acid yarn resistant to chemical attack

ALL PLAY TURF
All play turf is engineered with safety in mind and turf is also constructed to handle extreme traffic that is typically found around playgrounds. Our installation process includes a 1 to 2-inch padding, providing the safest environment for children.
ALL PLAY TURF SPECIFICATIONS
Pile Height: 1 1/8"

Face Weight: 78 oz

Total Weight: 105 oz

Yarn Color: Field/Olive

Thatch Color: Green

Yarn Material: Monofilament Polyethylene (PE)

Thatch Material: Texturized PE

Primary Backing Material: 7 oz Dual Layered Non-expansive

Secondary Coating Material: 20 oz Polyurethane

Tuft Bind: >10 lbs.

Machine Gauge: 3/8"

Infill Ratio: 1 – 2 lbs

Roll Width: 15'

Drain Rate: >28 inches per hour

Shipping Weight: 1000 lbs per roll (15 x 100)

Roll Diameter: 24 inches

Warranty: 15 year

Recommended Use: Moderate to High Traffic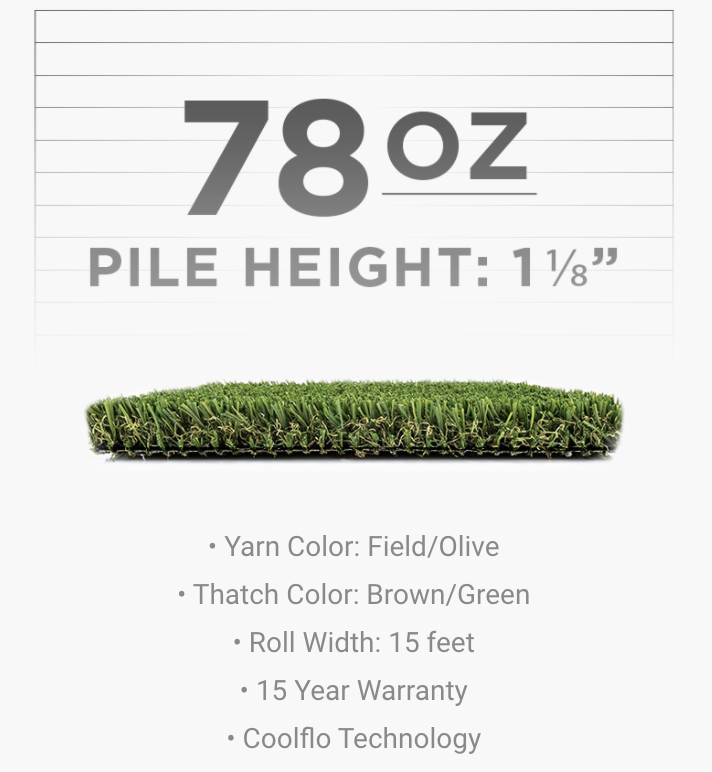 PACIFIC PLAY TURF
Pacific play is extremely durable, yet soft to the touch, making it ideal for indoor and outdoor playsets. Again, with any synthetic grass playground install, we include 1 to 2-inch padding to deliver additional shock absorbency for children.
PACIFIC PLAY TURF SPECIFICATIONS
Pile Height: 1 3/8"

Face Weight: 60 oz

Total Weight: 87 oz

Yarn Color: Field/Olive

Thatch Color: Brown/Green

Yarn Material: Monofilament Polyethylene (PE)

Thatch Material: Texturized PE

Primary Backing Material: 9oz Dual Layer

Secondary Coating Material: 20oz Permeable Polyurethane

Turf Bind: >10 lbs.

Machine Gauge: 3/8"

Infill Ratio: 1-2 lbs

Roll Width: 15'

Drain Rate: >100 inches per hour

Warranty: 15 year

Recommended Use: Moderate to High Traffic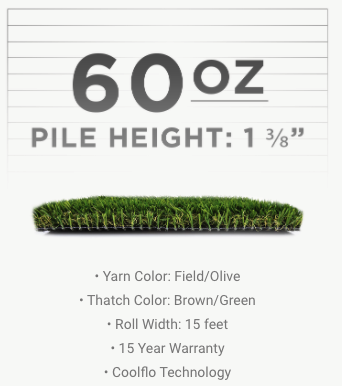 Contact Us
Email: [email protected]
Phone: (469)209-5505
Monday – Friday: 7:00 AM – 6:00 PM
Saturday – Sunday: 8:00 AM – 3:00 PM